by Umar Farooq

The VIX as we all know measures the implied volatility of options on the S&P 500. This is a key component in the price investors pay for downside protection on their portfolios. So what is implied volatility? It measures both actual volatility and the options market maker community's expectations about future volatility. When market makers feel confident about the stability in markets, implied volatility is lower, which makes the price of options cheaper. When they aren't confident in stability, implied volatility goes up, which makes the price of an option go up. To compensate those that are taking the other side of your trade, for the lack of predictability, you pay a premium.



Source: forbes
Between an unpredictable political climate, rising interest rates and stretched valuations, there's building frustration that the CBOE Volatility Index, or VIX, is losing its luster as a reflection of investor anxiety. The measure, which tracks expected volatility through options pricing, is hitting record low levels.

"Goldman Sachs options strategist Krag Gregoy highlighted that we just surpassed the lowest Q1 VIX on record and 2nd lowest quarterly average in history. The average VIX level in Q1 was 11.69, the lowest first quarter in VIX history, he notes. Q1 was the second lowest quarterly average VIX level back to 1990. The lowest was 11.03 in Q4 2006. Contrary to popular belief, Gregoy said a low VIX doesn't suggest an impending market decline. He notes that after a VIX decline below 11, median VIX levels over the next week, month and quarter were all fairly low at 11.1, 11.4 and 12.1, respectively." streetinsider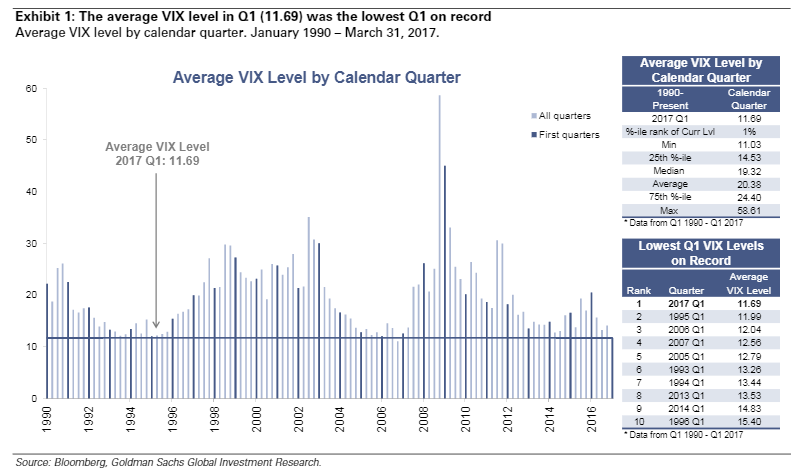 Source: streetinsider
Taken at face value, a stubbornly low VIX is flashing signs of complacency, even as some investors fear turbulence ahead. That's not to say the VIX isn't functioning how it's supposed to. It's a function of realized volatility, not necessarily a sentiment gauge, a read on what traders are willing to pay for options — the VIX has no emotions, said Dennis Davitt, a portfolio manager at Harvest Volatility Management LLC, which oversees about $9 billion. "The VIX is what it is: a series of numbers from the S&P 500," said Davitt, who also helped create Credit Suisse Group AG's fear barometer in 2009. "It's like arguing that your gas gauge is wrong. I can yell at it if I want it to be higher, but it's still going to run out of gas."

It takes a significant event–a high dose of uncertainty–to create a spike in implied volatility.


Source: forbes
The spike in VIX tends to correlate well with a sharp slide in stocks. Conversely, what we're looking at now is lower stocks and low volatility–a garden-variety correction in stocks. That's what this low volatility environment is spelling out, sponsored by fuel coming from fiscal stimulus.

There are plenty of structural reasons for a low VIX, such as falling stock correlations and more traders selling risk premium as rates remain low. On top of that, there's evidence that the perceived calm is related to improving economic expectations. Even Federal Reserve Chair Janet Yellen, whose fellow policy makers once lamented the suppressed level of implied volatility, said in her Wednesday press conference that the "simple message is the economy is doing well."