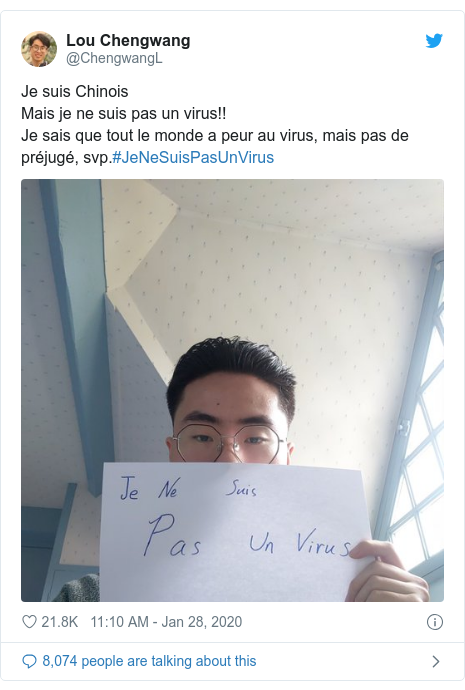 ASIANS FIGHT BACK: I'M NOT A VIRUS!
Fear in age of outbreak: Chinese not welcome…
LONDON (BLOOMBERG) – Hong Kong suspends travel from China. Schools in Europe uninvite exchange students. Restaurants in South Korea turn away Chinese customers.

As a deadly virus spreads beyond China, governments, businesses and educational institutions are struggling to find the right response. Safeguarding public health is a priority. How to do that without stigmatising the entire population of the country where the outbreak began is the challenge.

With the death toll reaching 170 and the roster of cases climbing above 7,700, worries are growing. Many global companies with operations in China have asked workers to stay home. Airlines are curtailing flights to the nation. Several countries have begun evacuating citizens from the most stricken zone around the city of Wuhan.
Americans from hot zone evaluated at military base…
WHO voices 'grave concern' about person-to-person spread…
BEIJING (AP) — World health officials expressed "great concern" Wednesday that a dangerous new virus is starting to spread between people outside of China, a troubling development as China and the world frantically work to contain the outbreak. For a second day, the number of infections grew dramatically.

The new virus has now infected more people in China than were sickened there during the 2002-2003 SARS outbreak. On Wednesday, the number of cases jumped to 5,974, surpassing the 5,327 people diagnosed with SARS.

The death toll, which rose to 170 on Wednesday, is still less than half the number who died in China from SARS, or severe acute respiratory syndrome. Scientists say there are many questions to be answered about the new virus, including just how easily it spreads and how severe it is.
6,000 Quarantined On Cruise Ship…
STOCKS FALL FURTHER ON SICKNESS…
U.S. stock index futures fell sharply on Thursday as the death toll from the coronavirus continues to rise in China, stoking fears about the virus' impact on global economic growth.

Around 7:25 a.m. ET, Dow Jones Industrial Average futures implied a loss of 200 points at the open. S&P 500 and Nasdaq 100 futures also pointed to steep losses at the open.

China's National Health Commission confirmed Thursday that the death toll has hit 170, with confirmed cases of the virus surpassing 7,700. Cases have also been confirmed in places outside of China, including the U.S.

"The spread of the Wuhan virus isn't accelerating, but markets becoming more concerned about future earnings and economic growth as companies implement work stoppages to reduce the chance of the disease spreading," said Tom Essaye, founder of The Sevens Report.