by Ruby Henley
It is September 9, 2017, and the nightmare of Hurricane Irma is closing in on Floridians and those in the path of Hurricane Irma.  The path of Irma is moving westward, which takes it off Miami and on Tampa.  The pressure of those in Florida as they evacuate is unimaginable, but it is now a reality for Americans living in coastal areas of the United States.  All islanders are used to the devastation wrought by these hurricanes, but what Texas has experienced from the onslaught of Hurricane Harvey is nothing like Americans have ever experienced.
The young man who made the video is an amazing human being.  He is committed to helping his family evacuate, and at the same time he is taking his pets, and camera equipment to a safer location.  Yet, he will still be in the state of Florida, and he even says "the whole state of Florida is in danger."
He stops to help others as he leaves to go to Lowes to buy supplies, and in those supplies he buys cases of water to share with others.  He and his friends stop to chat with police officers and share snacks.  They all keep their sense of humor and laugh together.  Most of all they continue to comfort others and be optimistic.  He announces at the end of the video everyone should evacuate now.
That video was made five hours ago.  The reason I want to share this young man's experience is he impresses me by his humanity.  He stays upbeat, calm, and loving as he faces a questionable fate in the path of Hurricane Irma.  None of us know when we will stare death in the face, and the chance of this is becoming stronger each day.  

We are in the midst of great changes…many of them pushing us beyond the limit of human endurance…or so it seems.  That is what I thought yesterday, but today I believe differently.  We must refuse to allow these changes to push us into darkness, as there is a light in each of us bursting to shine.
The outer bands of Irma have now hit Florida, and many are already without power.  I wonder about this young man, his family, friends, and his two precious dogs.  Millions were ordered to evacuate from a storm that threatened to ravage Florida with destruction not seen in a generation. There are so many retirees in Florida, and I wonder how many will leave.  Flights are running late at the airports, and I can only imagine how frustrated the evacuees must feel.
"Once the storm starts, law enforcement cannot save you," Governor Scott said at a news conference in Sarasota.
Irma's track shifted overnight: The eye of the storm is now expected to head up the state's west coast, rather than the middle. Naples, Fort Myers and Tampa are now expected to bear the brunt of the storm. But because of the size of the hurricane, Florida's east coast remains in danger, including from storm surges that will easily overwhelm some areas. But before the storm reaches the peninsula, the Florida Keys will experience its full force.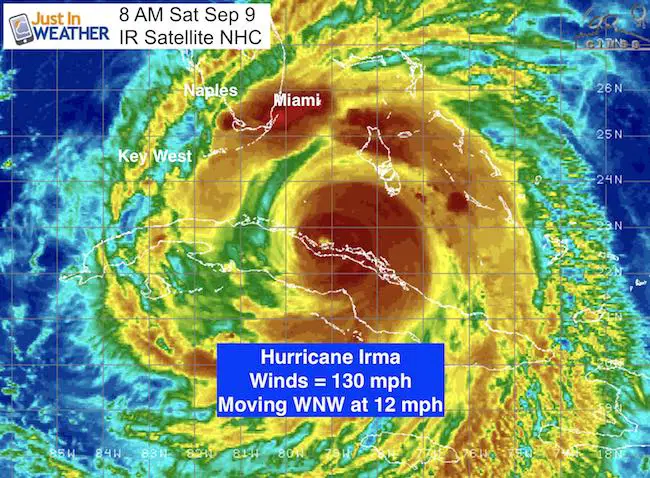 Will we see the same devastation in Florida that we saw in Texas from Harvey?  I believe we will see even more so.  I live in western North Carolina, and remarkably Irma is moving our way.  Although, she will be quietened down somewhat by the time she reaches me, I don't ever remember a time like this. We were touched by Ivan, and we received so much water the local mill flooded.  I remember the whole community working together to get that mill back up and running.  They did it, and it is now running better than ever.
I contacted my neighbors, and we are working together to prepare for Irma's visit.  I received a note, which one of them placed on my porch today.  It was the sweetest message I have ever received… thanking me for my help.  It is a loving coordination effort, and it brings us together resulting in less fear and isolation.  
I also felt the comforting presence of God today, giving me the inspiration I needed to remain calm and active.  I felt Him saying, it will be fine…do not fear…fear is your enemy.  Replace that fear with love…that is the key.  Is all of this pushing us toward love by our need to be comforted during a time of great fear?  I think so.
We must not forget those in Mexico, as they are suffering the devastation from a powerful earthquake.  Right now, as we speak, the world is a place of gaping wounds not yet even bandaged.  Are there enough healers to go around? I think God is preparing us all to be healers now.
What is the latest news on the path of Hurricane Irma?

a.msn.com/r/2/AAruOhr?m=en-us
The National Hurricane Center downgraded Irma to a Category 3 storm Saturday, with maximum sustained winds of 125 miles per hour. But the storm is expected to strengthen as it moves away from Cuba and toward the Florida Keys, where it is expected to hit Sunday morning. Irma will move along or near Florida's southwest coast Sunday afternoon.
The National Weather Service said the west coast of Florida could see storm surges from four to 15 feet if peak surge happens during high tide.
Regardless of its track, all of Florida will likely experience damaging winds, rains, flooding and possibly tornadoes. The National Weather Service has issued a tornado watch for all of southern Florida and the Florida Keys until midnight Eastern Time.
"This is a deadly storm and our state has never seen anything like it," Scott said.
[Follow the latest forecast for Hurricane Irma at Capital Weather Gang]
Counties including Broward have issued curfews and at least 70 more shelters are opening across the state Saturday. At least 50,000 people are staying in 260 state shelters, Scott said. He implored nurses to volunteer throughout Florida; the state desperately needs 1,000 nurses in its special needs shelters.

You can follow the storm on live radar here, as that is the accurate way to see Irma's path.  
www.msn.com/en-us/weather/maps/miamifloridaunited-states/we-city?q=miami-florida

What is FEMA saying about Irma?
a.msn.com/r/2/AAryAtv?m=en-us
Asked for a specific number of those who could lose power, Long said, "You know it's hard to speculate, but some of the estimates could be 5 million people without power based on this, you know, south-to-north trajectory, and it's not just Florida; it's going to be moving into Georgia as well … over the next five days."
Long also made clear that residents living in the hardest-hit areas who decided to stay in their homes despite evacuation warnings, will likely not receive immediate aid from federal first responders.
And for those in the Keys: "You're on your own until we can actually get in there, and it's safe for our teams to support local and state efforts," Long said."The message has been clear — the Keys are going to be impacted, there is no safe area within the Keys, and you put your life in your own hands by not evacuating."
Long described the scenario as a harsh reality, warning that residents have to be primarily responsible for their own well-being.
"And what we have to do is set citizen expectations," Long said. "We are not going to be there right after storm passes. We need to be sure that the roadways are clear, we need to get trucks in to get stuff there. And that's why we ask people to be prepared for three days, and you know hopefully in these landmark events, citizens will start to take these preparedness measures seriously. All over the country, we're asking you to be prepared. We cannot be there right after the storm."

What about disaster funding?
Long also said it was "hard to say" how long the $15 billion approved by Congress for disaster relief will last.
But he added that the administration and Congress "understand the importance of this mission, and the President's given me all the authority I need to move forward. And as I've been saying, paperwork and money's not going to get in the way of us mobilizing and saving lives."
Long said he has faith that Congress will move swiftly if there's a need for more money.
"I think the Congress will act quickly to make sure we have the emergency funding that we need to go forward," he said. "And the actual damage estimates of not only Harvey, but also Irma takes place over a course of several years, so it's not that all money needs to come down at one time," he said.
Speaking to CNN, Texas Republican Rep. Michael McCaul, who chairs the House Homeland Security Committee, called the amount of money allotted by Congress this week for both Hurricane Harvey and Irma relief efforts a "down payment."
"I would call it a down payment, and that's what it was, and FEMA burning probably half a billion a day," he told CNN. "And when you compound that with Hurricane Irma, with Irma, you can imagine how that cost is going to go up. Congress isn't done with this issue. I fully anticipate another supplemental bill to pay for both Harvey and Irma."
McCaul said had hope that the funding issue would not get political.
"This town is not devoid of politics," he said. "I would hope in the case of a natural disaster of this magnitude — now the second one we've seen … and with people's lives at stake, they're rebuilding their lives and communities — that we would show some compassion and not play partisan politics with this," he said.

What has Congress approved?
www.cnn.com/2017/09/08/politics/house-vote-hurricane-aid-debt-ceiling-package/index.html
President Donald Trump on Friday afternoon signed a measure tying emergency funding for hurricane relief with measures that would raise the debt ceiling and keep the government open for three months.
The measure was the result of a deal struck between Trump and Democratic leaders, to the consternation of many Republicans.
The House had passed the bill, 316-90, earlier in the day. The 90 lawmakers who opposed the bill were all Republicans, who had just come out of a meeting with top administration officials urging them to support the package. The Senate passed the legislation Thursday.
Trump, in a surprising move, signed onto the package Wednesday, siding with Democratic leaders Nancy Pelosi and Chuck Schumer, who proposed bundling the bills together but only with a three-month extension for the debt ceiling, essentially punting the issue until December.
Republican leaders had sought a debt limit increase for as long as 18 months.
Republican leaders had sought a debt limit increase for as long as 18 months.
A White House official said "the President is pleased Congress acted quickly."
"This bill will also provide funding for any necessary relief following Hurricane Irma," the official added. "By ensuring government funding for the next three months, it gives Americans the certainty they deserve and we look forward to finding a permanent solution in the months to come."
President Donald Trump urged caution and cooperation in a tweet Saturday evening.
"This is a storm of enormous destructive power, and I ask everyone in the storm's path to heed ALL instructions from government officials," he wrote.
Earlier in the day, the President posted a link to state information on the locations of shelters, road closures and evacuation routes.
Trump and his Cabinet, who are meeting at Camp David this weekend, are receiving regular updates on both Irma and another hurricane, Jose, which is following behind it, including a briefing by acting Homeland Security Secretary Elaine Duke, the White House said Saturday.
"The President and First Lady are keeping all the people impacted by Hurricanes Harvey and Irma in their thoughts and prayers and urge everyone to listen to and follow the safety instructions of local authorities," a White House official said.
Here is a site that will give information much needed for Floridians at this time.  
floridadisaster.org/info/

I want to say upon closing that President Trump has been criticized for working with the Democrats, but I think we should open our eyes to see he did it for us.  That is the only way he could get disaster relief funded quickly.  Thank you, President Trump…we understand and appreciate it.