by Umar Farooq

One of the rarest precious metals, typically used in automobile exhaust systems to make emissions more clean, has a surging spot price. It climbed the past seven months and is up 32 percent this year, outperforming most major commodities. Mostly used alongside palladium in gasoline autocatalysts, prices have rebounded from a 12-year low set in July. The price of rhodium is trading 32% up so far this year and has added nearly $400 an ounce since hitting 12-year lows mid-2016. The price of rhodium is trading 32% up so far this year and has added nearly $400 an ounce since hitting 12-year lows mid-2016.


Source: infomine
According to Bloomberg, "the spectacular turnaround comes amid stronger demand from industrial users including automakers, which account for the bulk of rhodium consumption. China, which predominantly favors gasoline vehicles, in December raised a sales tax on small cars less than originally expected. In 2016, Chinese consumers bought vehicles at the fastest pace in three years. "China is a big part of this story," said Jonathan Butler, a precious metals strategist at Mitsubishi Corp. in London. "The level of car ownership is still growing, and there are signs that it could get to western levels." The metal is trading at $920 an ounce, according to Johnson Matthey Plc, which makes about a third of all autocatalysts. This year's advance compares with a 13 percent gain for palladium and a 7.8 percent increase for platinum, which is also used to curb car emissions. All three metals are mined together, mainly in South Africa."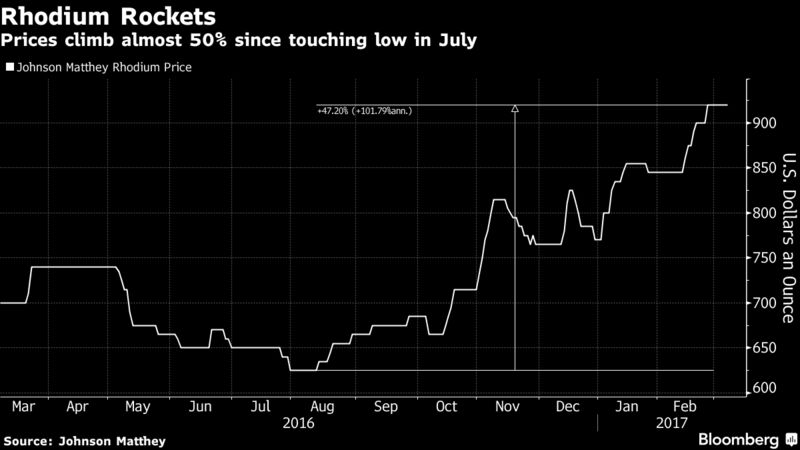 Source: Bloomberg
"Rhodium is a silver-white metallic element, is highly resistant to corrosion, and is extremely reflective. It is used as a finish for jewelry, mirrors, and search lights. It is also used in electric connections and is alloyed with platinum for aircraft turbine engines. Another use is manufacturing of nitric acid and used in hydrogenation of organic compounds. Rhodium usage is dominated by automotive catalyst applications where it is used together with platinum and palladium to control exhaust emissions. South Africa is the major source, accounting for almost 60% of the world's rhodium supply Russia is the second largest producer, although its sales are, as with the other PGMs, volatile and subject to political intervention. High rhodium prices during the late 1980s led to increased rhodium production from South Africa. This increased supply was primarily responsible for a declining rhodium price during the 1990s.Interruptions to Russian supply since early 1997 have helped the rhodium price to recover strongly." kitco
The price of rhodium although has dropped from $1015 to $950 per troy ounce in the last two weeks, but still the metal has posted the biggest rally in over a decade. Because rhodium is a smaller market than other precious metals, prices are more volatile, said Grant Sporre, an analyst at Deutsche Bank AG in London.