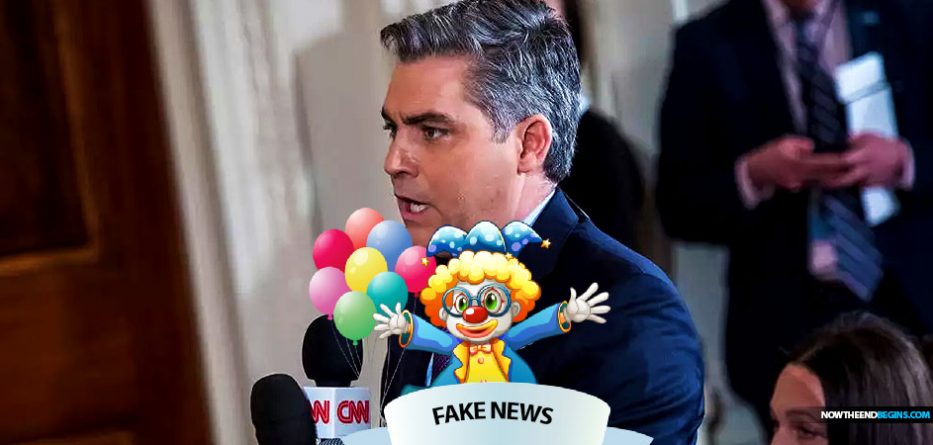 CNN is filing a lawsuit against President Trump and several of his aides, seeking the immediate restoration of chief White House correspondent Jim Acosta's access to the White House.
When your 'news' network comes in after the Cartoon Network in the Nielsen Ratings, you've got a problem. How do you fix that problem? Easy, you hire clowns with balloons. One of those clowns is Jim Acosta whose main schtick, as they used to say in Vaudeville, is to relentlessly fire off loaded questionsin order to achieve that 'gotcha' moment CNN so desperately needs to reverse their ratings decline.
Acosta has crossed the line so many times in previous attacks on both Sarah Sanders and President Trump, that you wonder why it took so long for him to get banned from the White House. So now fake news CNN has filed a lawsuit to have him reinstated to the Press Pool.
MEMO TO CNN: You're good with clowns and balloons, now you need more cowbell.
CNN sues President Trump and top White House aides for barring Jim Acosta
FROM CNN: The lawsuit is a response to the White House's suspension of Acosta's press pass, known as a Secret Service "hard pass," last week. The suit alleges that Acosta and CNN's First and Fifth Amendment rights are being violated by the ban.
The suit is being filed in U.S. District Court in Washington, D.C. on Tuesday morning, a CNN spokeswoman confirmed. Both CNN and Acosta are plaintiffs in the lawsuit. There are six defendants: Trump, chief of staff John Kelly, press secretary Sarah Sanders, deputy chief of staff for communications Bill Shine, Secret Service director Joseph Clancy, and the Secret Service officer who took Acosta's hard pass away last Wednesday. The officer is identified as John Doe in the suit, pending his identification.
The six defendants are all named because of their roles in enforcing and announcing Acosta's suspension. Last Wednesday, shortly after Acosta was denied entry to the White House grounds, Sanders defended the unprecedented step by claiming that he had behaved inappropriately at a presidential news conference. CNN and numerous journalism advocacy groups rejected that assertion and said his pass should be reinstated.
"CNN FILED A LAWSUIT AGAINST THE TRUMP ADMINISTRATION THIS MORNING IN DC DISTRICT COURT," THE STATEMENT READ. "IT DEMANDS THE RETURN OF THE WHITE HOUSE CREDENTIALS OF CNN'S CHIEF WHITE HOUSE CORRESPONDENT, JIM ACOSTA. THE WRONGFUL REVOCATION OF THESE CREDENTIALS VIOLATES CNN AND ACOSTA'S FIRST AMENDMENT RIGHTS OF FREEDOM OF THE PRESS, AND THEIR FIFTH AMENDMENT RIGHTS TO DUE PROCESS. WE HAVE ASKED THIS COURT FOR AN IMMEDIATE RESTRAINING ORDER REQUIRING THE PASS BE RETURNED TO JIM, AND WILL SEEK PERMANENT RELIEF AS PART OF THIS PROCESS."
On Friday, CNN sent a letter to the White House formally requesting the immediate reinstatement of Acosta's pass and warning of a possible lawsuit, the network confirmed.
In a statement on Tuesday morning, CNN said it is seeking a preliminary injunction as soon as possible so that Acosta can return to the White House right away, and a ruling from the court preventing the White House from revoking Acosta's pass in the future.
CNN also asserted that other news organizations could have been targeted by the Trump administration this way, and could be in the future. READ MORE
CNN sues President Trump and top White House aides for barring Jim Acosta
If you wonder why CNN comes in last after the Cartoon Network in the ratings, just watch this video. 
785 views