by Umar Farooq
Drugmakers are under intense pressure to come up with ways to reduce prices amid outcry from members of Congress and U.S. customers. President Donald Trump's latest pledge to drive down to drug prices has sent pharmaceutical stocks falling again after just one tweet. The tweet left analysts struggling to figure out what the president meant, especially because Trump has alluded to bidding in the past. Unlike most countries in the world, the U.S. doesn't directly regulate medicine prices, and drugmakers have strongly resisted it.


Source: twitter.com/realDonaldTrump
Trump sent his tweet the morning after House Republicans unveiled their long-awaited legislation to repeal and replace the Affordable Care Act late Monday, which he also touted Tuesday, adding that competition will come later in the health-care rollout. "We are intrigued by the timing of President Trump's tweet this morning as it followed rapidly behind the House health-care reform bill, and we believe shows the administration's continued focus on drug pricing," Vamil Divan, an analyst at Credit Suisse AG, said in a note to clients.

The 25-member Standard & Poor's 500 Pharmaceuticals, Biotechnology & Life Sciences Index dropped as much as 1.3 percent, the most since Jan. 11, when Trump said the pharmaceutical industry is "getting away with murder." The president has promised to lower drug costs multiple times — and threatened to use the government's buying power to force prices down — but so far has not unveiled any specifics about how to do so.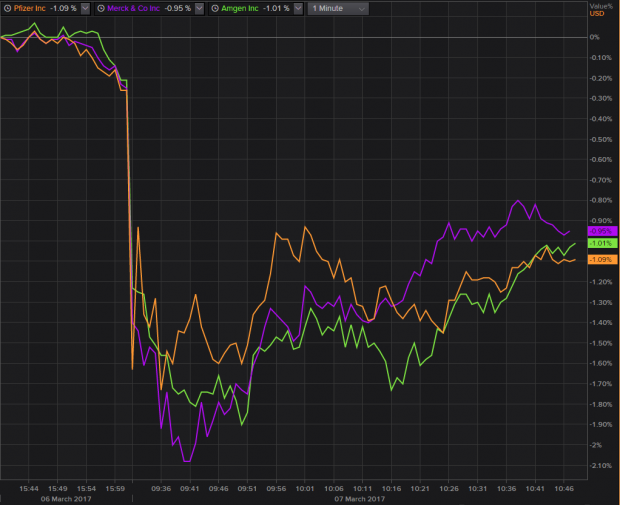 Source: independent.co.uk
On Tuesday, pharmaceutical stocks were the biggest laggards in the S&P 500 for much of the morning, with the health-care sector closing the day down a little more than half percent. The big names in the pharma industry all traded in red territory. Merck fell nearly 1 percent, Lipitor-maker Pfizer fell a little more than 1 percent, British-based GlaxoSmithKline lost almost 1 percent and Switzerland-based Novartis closed the day down nearly 2 percent. Mylan, the maker of the EpiPen allergy shot, declined nearly 2 percent, while Perrigo, a manufacturer of private label over-the-counter pharmaceuticals, dropped about 2 percent, too.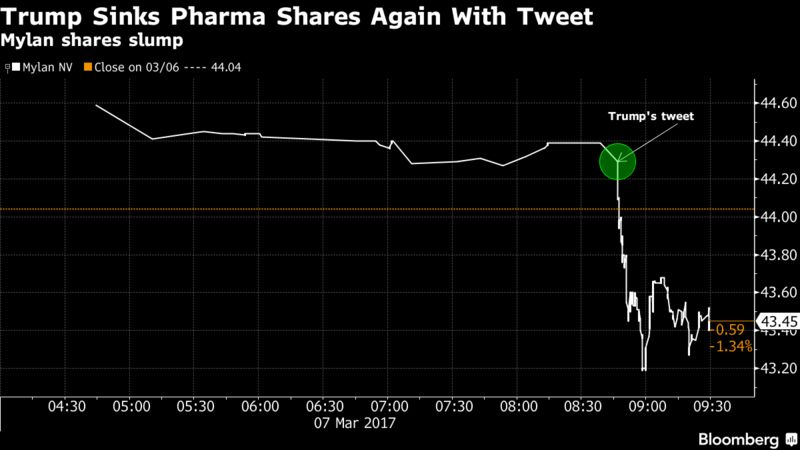 Source: bloomberg
Despite, Tuesday's losses, the health care sector of the S&P 500 has gained more than 10 percent over the past 12 months, and more than 8 percent for the year. The iShares Nasdaq Biotechnology ETF is up more than 9 percent over the past 12 months, and more than 11 percent for the year.