by Pamela Williams
The more we learn about the FBI, the more shocked we become!  TRUE PUNDIT broke the story that the Russian translator, Anatoli Samochornov, actually was working for the FBI under Robert Mueller at the time of the meeting between Donald Trump Jr. and the Russian lawyer.  Wow, what a setup…thank God we know.  I think we must demand Robert Mueller step down now as Special Counsel now; furthermore, he must come clean to the American people.
Anatoli Samochornov???? Russian translator Obama used to set up @DonaldJTrumpJr & @realDonaldTrump He hates GOP & would not want to elect one. pic.twitter.com/l45r8y7nxK

— No One ???????? (@tweettruth2me) July 16, 2017

How much more can this Country take from the Trump-haters?  How much more can the American people take from the FBI?
Samochornov has worked as an intelligence translator for the United States in varying capacities for years. In 2010, while Mueller was FBI Director, Samochornov worked with the head of the New York FBI field office, FBI Acting Special Agent in Charge Lauren Anderson. Anderson worked with Samochornov in his role as "Program Officer" for the State Department's International Visitor & leadership program.
This man should have to give a statement to the American people now.  We demand it!  FBI OR NOT, we want answers!
Mueller is now United States Special Counsel investigating President Donald Trump's administration and White House aides for alleged connections to supposed Russian factions. While Mainstream Media has tried to portray Trump's eldest son, Donald Jr., as having planned a meeting with the Russians to attempt to find dirt on Hillary Clinton, how are they going to  explain how a FBI agent working for Mueller ended up at that meeting?  
Let the spin begin FAKE NEWS!  WE KNOW IT WAS A SETUP!
Anatoli Samochornov was the translator for Natalia Veselnitskaya at her meeting with Donald Trump Jr. t.co/xJrBDpgEQ8

— Paul Blumenthal (@PaulBlu) July 14, 2017

www.youtube.com/watch?v=1eCiUwh41XI
Published on Jul 16, 2017
Anatoli Samochornov the translator for Russian lawyer Natalia Veselnitskaya was named on Friday by Rinat Akhmetshin, a lobbyist who also attended the meeting in Trump Tower with Donald Trump Jr., Bob Goldstone, and possibly two others.
We know that Bob Goldstone set the meeting up, so he has some explaining to do, too.

As if the above is not enough, we have learned  Samochornov was Obama's translator when he was President.  This hole just gets deeper and deeper.
The Russian language interpreter for Barack Obama and former US Secretary of State Hillary Clinton attended a June 2016 meeting in New York City held between the main parties identified as Donald Trump Jr. and Russian attorney Natalia Veselnitskaya. Veselnitskaya has been identified by various Russian intelligence sources as an "anti-Trump" FBI "snitch for James Comey."
Anatoli Samochornov, who until last week was listed as a Project Manager for the US State Department's Meridian International Center, and one of whose main duties was acting as an "interpreter at high level UN and private sector meetings for the Secretary of State and other VIP's".
The below is his profile taken from dennismichaellynch.com/breaking-new-official-identified-trump-jr-meeting-linked-clinton-state-department/



Having worked in the US State Department from January 2005 to July 2017,  Anatoli Samochornov has  been known to the US government as a Russian language interpreter during a meeting in September 2015 held at the United Nations offices in New York City between President Putin and President Obama. 
The JAPAN TIMES reports:  www.japantimes.co.jp/news/2015/09/29/world/politics-diplomacy-world/u-n-addresses-obama-putin-duel-syrian-crisis-fate-assad/#.WW5K2oWcHBU
Picture taken from the above website: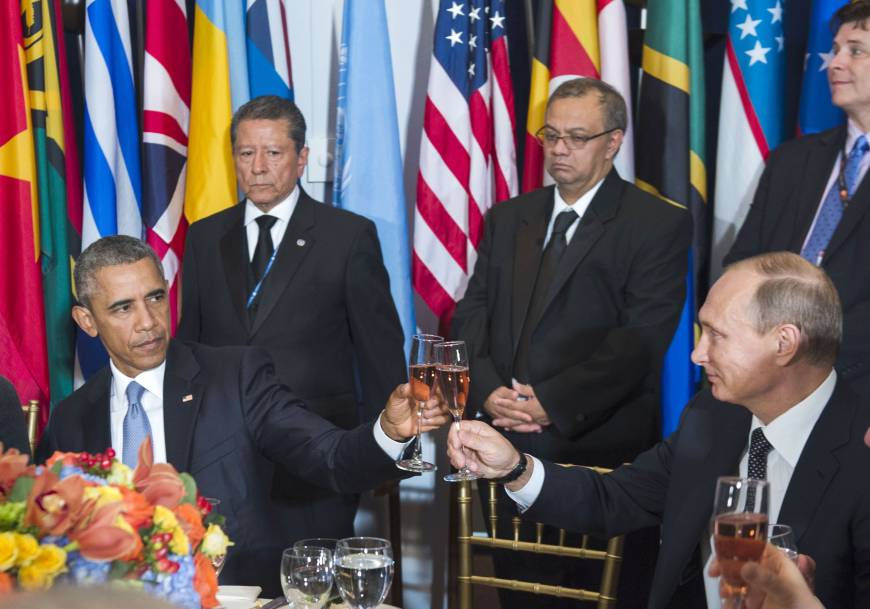 US government Russian language interpreter Anatoli Samochornov (center right/wearing glasses) at 2015 UN meeting held between President's Obama and Putin.

Further, it is know now that Samochornov is closely associated with Hillary Clinton.  dennismichaellynch.com/breaking-new-official-identified-trump-jr-meeting-linked-clinton-state-department/
Those were the only details regarding the translator in the report by the New York Times.
Breitbart has published a report with alarming details regarding the translator… including his tight connections to the U.S. State Department during the time Hillary Clinton was Secretary of State.
The "translator" was a project manager at the Meridian International Center, according to his LinkedIn profile, from January 2005 until recently. Meridian, described on its website as a "nonprofit, global leadership organization headquartered in Washington, D.C." is a principal partner of the U.S. State Department, Breitbart noted.
Breitbart reported:
Samochornov was listed as the program administrator for the State Department's International Visitor Leadership Program, which is implemented by Meridian. Breitbart News found the draft program book for the March 4-12, 2013 leadership initiative, which listed a State Department email for Samochornov.
Samochornov is identified in another document as "a "Russian born professional interpreter and project manager for the U.S. State Department."
He also has an email account with the State Department, samochornovav@state.gov.  Breitbart noted that an email sent to that address did not bounce back, indicating the account is likely still active.
www.scribd.com/document/131829011/Draft-Program-Book
www.meridian.org/about/

With both Natalia Veselnitskaya and Anatoli Samochornov now being associated with the FBI, the Obama regime, and Hillary Clinton's campaign, it appears the  determination can logically be made, in my opinion, it was a  counter-intelligence operation.  This is the way I view it. In conclusion, we must not let Mueller and the FBI get away with this.  President Trump and the American people can no longer continue on a path of such treatment by the premier investigative Agency of the US.  Since James Comey was Director of the FBI and now Robert Mueller Special Counsel investigating President Trump, we have been pushed around for too long.  Please share this report far and wide, as we must stand together and demand answers now!

Views: