The Dow has closed at an all-time high 70 times in 2017. That's more than any other year in history. The S&P 500 has not had 3% drawdown the entire year… Market is about 28% overvalued?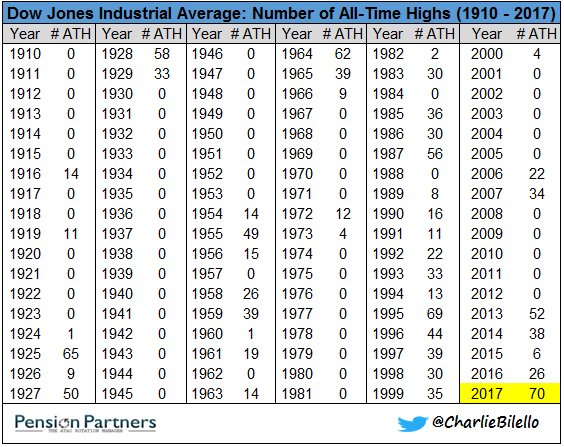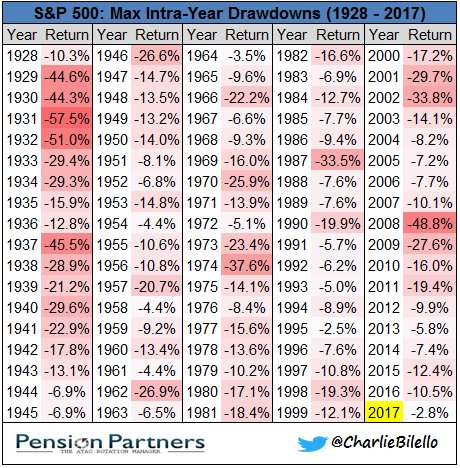 One of the great mysteries of 2017 is why M&A wasn't stronger, despite a strong stock market. Unlike late 90s and 05-07. h/t .@VrntPerception pic.twitter.com/XxK0537Z77

— Alastair Williamson (@StockBoardAsset) December 21, 2017
I calculated the market is about 28% overvalued, NDR seems to agree. pic.twitter.com/tPndN0W6U6

— Greg S. (@GS_CapSF) December 20, 2017
A recession warning signal is flashing; investors carry on
NEW YORK (AP) — One of Wall Street's traditional warning signs for a recession is flashing yellow, and nobody seems to care.
The signal lies within the bond market, where Treasurys maturing in a couple years have been paying nearly as much in interest as bonds that take a decade to mature. The gap between the two is usually much wider. Market watchers call this phenomenon a "flattening yield curve," and it's often been a harbinger of slowing economic growth, if not a recession.
Earlier this month, a 10-year Treasury was offering just 0.53 percentage points more in yield than a two-year Treasury. The last time the spread was so thin was in October 2007. Two months later, the Great Recession began.
"The curve normally is the ultimate crystal ball portending recession," said Rich Taylor, client portfolio manager at American Century Investments. "It tells us what the economy will do. And a curve this flat would suggest we have an impending recession."

Yet Taylor and most of Wall Street say that technical factors are making the yield curve a less reliable indicator this time around, and they don't see a recession looming on the horizon, at least not in 2018. Even Federal Reserve chair Janet Yellen echoed the sentiment last week.
Art Cashin's outlook for 2018: China, the Fed and bitcoin among his biggest worries for the new year
Cashin joined me for our 10th annual look at the year ahead, and the year that was.
He mentioned that his two biggest worries for next year involve China and the Federal Reserve.
Cashin also talked about bitcoin mania, saying it may not work out the way the bitcoin enthusiasts think it will.

UBS' Art Cashin joined me at the bar at Bobby Van's Steakhouse across the street from the New York Stock Exchange for our 10th annual look at the year ahead, and the year that was.
Art's two biggest worries for 2018 are:

China could interrupt the synchronized global growth story by aggressively cracking down on excessive lending, and
The Fed: everyone is worried that inflation will accelerate, but the risk may be that inflation remains too low and the Fed cuts rates less than expected.

Cashin's Corner: Annual chat at Bobby Van's from CNBC.


Americans' Economic Expectations Cool to Match Lowest of 2017
601 views