This is a warning that the great bull market in stock prices from the 2009 low is in its last stages.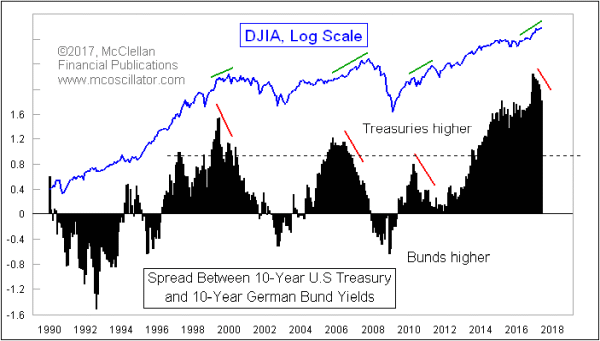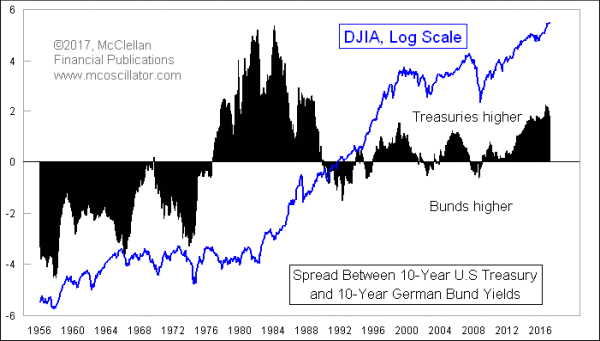 After 9 years of quantitative easing the Federal Reserve is now starting quantitative tightening. Jim Rickards says it is destined to fail…
…
Markets continue to not be fully discounted because they don't have enough information. Contradictions coming from the Fed's happy talk wants us to believe that QT is not a contractionary policy, but it is.
My estimate is that every $500 billion of quantitative tightening could be equivalent to one .25 basis point rate hike. The Fed is about to embark on a policy to let the balance sheet run down. While I don't know the figure, let's give a rough estimate that they lower balance sheets at a rate of $10 billion a month, or $120 billion a year. I would expect for the long-term they'll look to increase the tempo, which could even reach $20 billion a month or higher.
Under that estimate, it would be the equivalent of half a .25 basis point rate hike just in the first year alone, with expectations of Fed increases from there.
….

Former Presidential candidate and congressman Dr. Ron Paul knows a thing or two about currencies and has served on Committee on Financial Services, Subcommittee on Domestic Monetary Policy and Technology (Chairman) and Subcommittee on International Monetary Policy and Trade.
Ron Paul is calling for a scenario would drag the S&P 500 Index as low as 1,819, and gold as high as $1,867 an ounce from current levels.

There are parts of Silicon Valley where commercial real estate is still hanging on, and there are parts where it has let go.
In Santa Clara, it has let go. Overall availability of office space in Santa Clara was nearly 19% in the first quarter, according to Savills Studley, up from 14% a year ago. Only two other areas in Silicon Valley – Milpitas and North San Jose – show greater availability at respectively 23% and a harrowing 30%.
The availability problem becomes very real along the Great America Parkway, between Highway 237 and Highway 101. It's near Levi's Stadium. Nearby, Yahoo owned 49 acres of land that it acquired in 2006 and on which it had planned to build its new headquarters. It tore down the buildings on it and got the project approved for 3 million square feet of office space. It scuttled these plans in 2014 and turned the land into a parking lot for Levi's Stadium. In April 2016, Yahoo sold the property for $250 million to LeEco, a Chinese company that had surged out of nowhere.
LeEco was going to get into nearly everything, including electric cars in the US. It was going to build its global headquarters on it and hire 12,000 people. Then came reality. Earlier this year, LeEco in turn scuttled those plans and pulled back from the US, claiming that it had run into a cash crunch. It has since been trying to sell the property. There will be a buyer eventually, as always, but maybe not at $250 million.
Turns out, that corridor along the Great America Parkway is drowning in office space that is for lease.
"A growing Commercial Real Estate disaster" – that's what Michael, who has been to this area on a regular basis since 2010, calls it.
Detroit's car companies reported steep sales declines in June, capping a bumpy first half of the year for the U.S. auto industry and setting a bleak tone for the summer selling season.
The reports, released Monday, come as analysts expect overall auto sales to have fallen more than 2% in June compared with the prior year, according to JD Power. The firm said the industry's selling pace hit its lowest point since 2014 over the first six months of 2017, and traffic at dealerships — measured by retail sales — fell to a five-year nadir in June.
Edmunds.com, a consumer-research company, said buyers are stretching more than ever to afford cars and trucks that are growing increasingly more expensive due to a barrage of safety gear and connectivity options. The firm estimates the average auto-loan length reached a high of 69.3 months in June, with the average amount of financing reaching $30,945, up $631 from May.
'The public buys the most at the top and the least at the bottom'
If you're looking for warning signs in this market, you don't have to look too far. The Fed winds are no longer at our backs, equity valuations are getting increasingly stretched, and the political climate isn't exactly stable, to name just a few.
Yet, investors continue to feast on a steady diet of new highs, with the DowDJIA, +0.61%  breaking into uncharted territory on Monday.
Not a huge surprise, really. As Bob Farrell, the Merrill Lynch BAC, +1.73% investing legend, once said about stock-market trends: "The public buys the most at the top and the least at the bottom."
It remains to be seen if the market is anywhere near a top, of course, but if this chart, which Steve Blumenthal of CMG Capital described as an illustration of Farrell's views, is any indication, we are approaching the "point of maximum financial risk."
Views: