by Umar Farooq
The greenback has enjoyed a nice bounce in the era of Donald Trump but as the dollar (NYSEARCA:UUP) index is holding around the 100 level, the Dollar bulls are ignoring the fact that there could be a risk of a head and shoulders pattern here which would be bearish long-term for the greenback. In this particular rally, the dollar would at least need to take out and stay above its current 50-day moving average, which is around 101.38. Because of the steep slide the greenback has had since the start of the year, its 50-day moving average is currently lining up with the Fibonacci 50% retracement level. The RSI momentum indicator is nearing overbought levels already. This indicator is particularly accurate when an asset class, currency or stock becomes overbought in a downtrend which we have had in the greenback since the start of the year.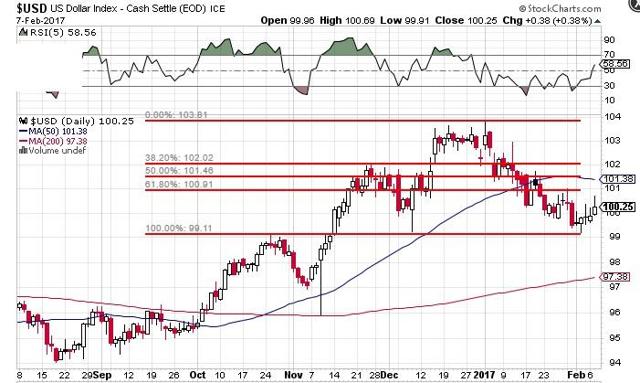 Source: goo.gl/S2ULgG
Therefore, if the currency turns over at the Fibonacci retracement or the 50-day moving average, then the real question thereafter will be whether the greenback will be able to stay above its February lows. If it doesn't manage to hold the lows it printed on the 2nd of February, then the probabilities would be heavily stacked in favor of a multi-year top being already in for the dollar.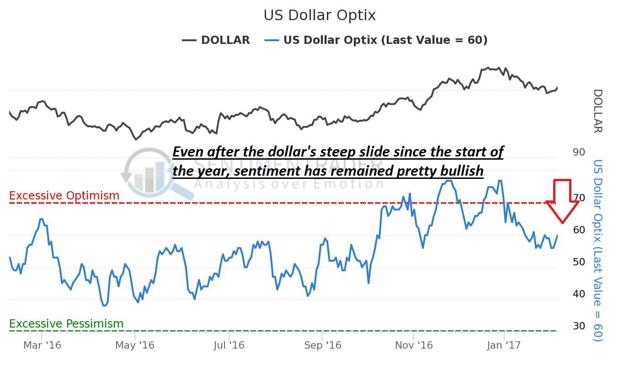 Source: goo.gl/S2ULgG
"We are about to find out pretty soon whether the strong rally in the dollar since November was election-driven or fundamentally driven. We will know from its current daily cycle. If the dollar continues to trade in an up-trend, the current daily cycle should not top out for at least another 20 trading days. Why? Because daily cycles in the dollar can usually last up to 40 trading days. If the dollar is going to new highs, this cycle cannot top for another 20 trading days at least. If, however, we soon get a top in the dollar, I foresee its recent lows being broken which will mean this daily cycle will end up being left translated, which would mean a down-trend would be confirmed." Seekingalpha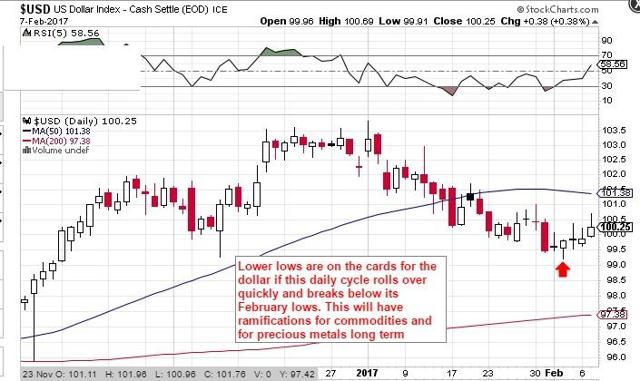 Source: goo.gl/S2ULgG
To sum up, the dollar has to stay above its recent lows for at least another month or so or technical traders will exit. It also faces a headwind from the euro which is expected to continue rallying aggressively. US stocks which derive a lot of their sales from overseas markets will benefit from a weaker dollar. 
Views: