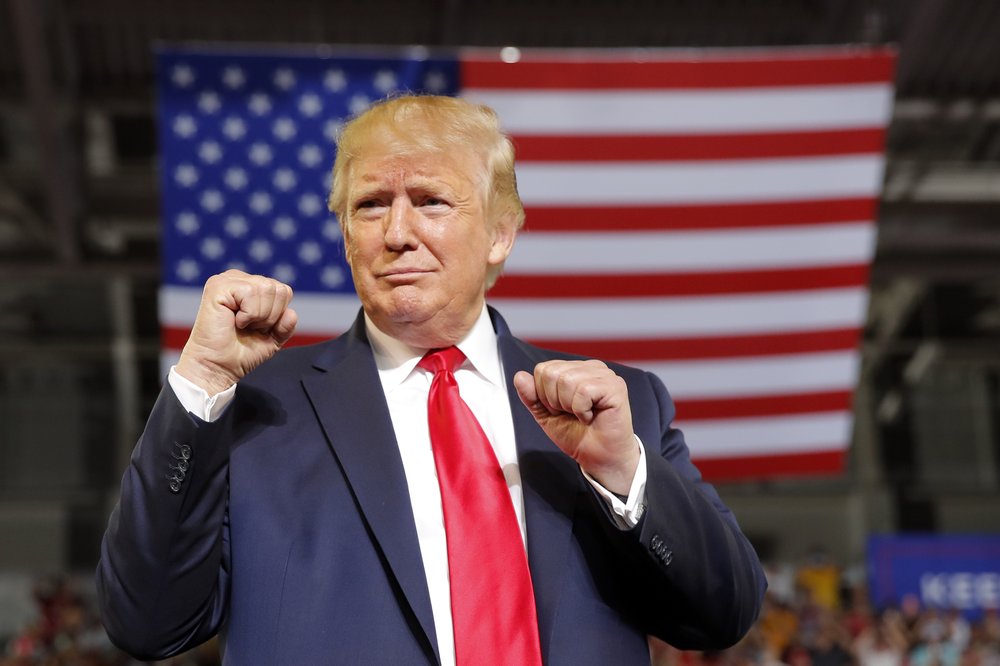 Trump says not happy with backers' 'send her back' chant
WASHINGTON (AP) — President Donald Trump said Thursday he was unhappy with his supporters chanting "send her back" after he assailed a young Democratic congresswoman who he's suggested should leave the U.S.
Speaking in the Oval Office, Trump claimed he tried to stop the chant, which came after he recited a litany of complaints about Rep. Ilhan Omar of Minnesota, who fled to the U.S. as a child with her family from violence-wracked Somalia. Video shows the president pausing his remarks, appearing to drink in the uproar and not admonishing his supporters as they chanted.
Trump disavows 'send her back' chant from his rally
President Donald Trump claimed Thursday he "was not happy" with the crowd at his campaign rally for chanting "send her back," after he had goaded the North Carolina audience with a fiery attack on Rep. Ilhan Omar.
"I was not happy with it. I disagree with it. But again, I didn't say that. They did. But I disagree with it," Trump told reporters in the Oval Office, adding that he "started speaking very quickly" in an attempt to silence the rally attendees.
Prior to the audience at Greenville's East Carolina University breaking into their chant Wednesday night, the president tore into Omar, mischaracterizing past controversial statements by the Minnesota Democrat related to the 9/11 terror attacks and Al Qaeda that conservatives have seized upon in recent months.
Just before the incendiary refrain broke out, Trump accused Omar of having "a history of launching vicious, anti-Semitic screeds," and then silently gazed out over the crowd for roughly 15 seconds until the cheers of "send her back" abated.
Democrats call for increased security after 'send her back' chants
Lawmakers on Thursday expressed alarm over the threats toward freshman Rep. Ilhan Omar (D-Minn.) after a crowd at President Trump's rally the night before chanted "send her back."
Multiple Democrats are calling for more enhanced security for members of Congress, including Omar and her three closest allies who were also targeted by Trump earlier this week when he suggested they all "go back" to other countries.
Rep. Al Green (D-Texas) announced on the House floor that he plans to introduce legislation asking for more security resources for lawmakers. While members of leadership in both parties have dedicated security details, rank-and-file members do not.
"This is an important time in this country. These are dangerous times. Every member of this House needs additional security," Green said.
"Leadership has adequate security. Members do not have adequate security. I want to thwart the efforts of those who might want to harm a member of this House," Green continued.
Asked by reporters if she was scared for her safety, Omar, one of the first Muslim women elected to Congress, said "I am not. What I'm scared for is the safety for people who share my identity."
642 views