by KneelB4Zod
Attempted coup in Macedonia –
Supporters of the movement "For The Common Macedonia" stormed the Macedonian parliament and attacked the deputies of the parliamentary majority, following a vote for a new speaker. In addition, journalists were detained in the press center of the Parliament.
Demonstrators forced their way into the building after the Social Democrats and the parties representing ethnic Albanians elected a parliament speaker in a vote that Gruevski's party didn't recognize, MIA said.
As Bloomberg reports, the former Yugoslav state of 2 million people has struggled to find a way out of political deadlock after former Prime Minister Nikola Gruevski failed to for a coalition government following an inconclusive snap vote five months ago. Gruevski's ally, President Gjorge Ivanov, has refused to give a mandate to the opposition Social Democrats, which say they can form a majority-backed government with parties representing ethnic Albanians.
Today's action was condemned by European Union Commissioner Johannes Hahn, who said "violence has no place in parliament," according to his post on Twitter.
*POLICE SPOKESMAN: `TOTAL CHAOS' IN SKOPJE AFTER PARLIAMENT RAID
*POLICE SPOKESMAN SAYS DOZENS HURT IN PARLIAMENT RAID IN SKOPJE
Live Feed:

The attack injured several members, including the leader of the opposition SDSM party, Zoran Zaev.
BREAKING: Barricades broken through journalists attacked by masked men! #Skopje #Macedonia #Coup pic.twitter.com/OEchBBcTlV

— 00101010 (@seirdotmk) April 27, 2017

www.zerohedge.com/news/2017-04-27/coup-masked-men-storm-macedonia-parliament-live-feed
Enrico Ivanov@Russ_Warrior 6 min.
Meanwhile inside the parliament building in #Skopje…
Coup or not coup #Soros must be disappointed.
#Macedonia
Meanwhile inside the parliament building in #Skopje…
Coup or not coup #Soros must be disappointed. 😁#Macedoniat.co/sJyZFCviq8

— Enrico Ivanov ☦ (@Russ_Warrior) April 27, 2017


Enrico Ivanov@Russ_Warrior 3 min.
#Soros' puppet #Zaev and other SDSM MPs (Pro-GreaterAlbania) attacked and beaten in the parliament.
#RejectTiranaPlatform
#Macedonia #FYROM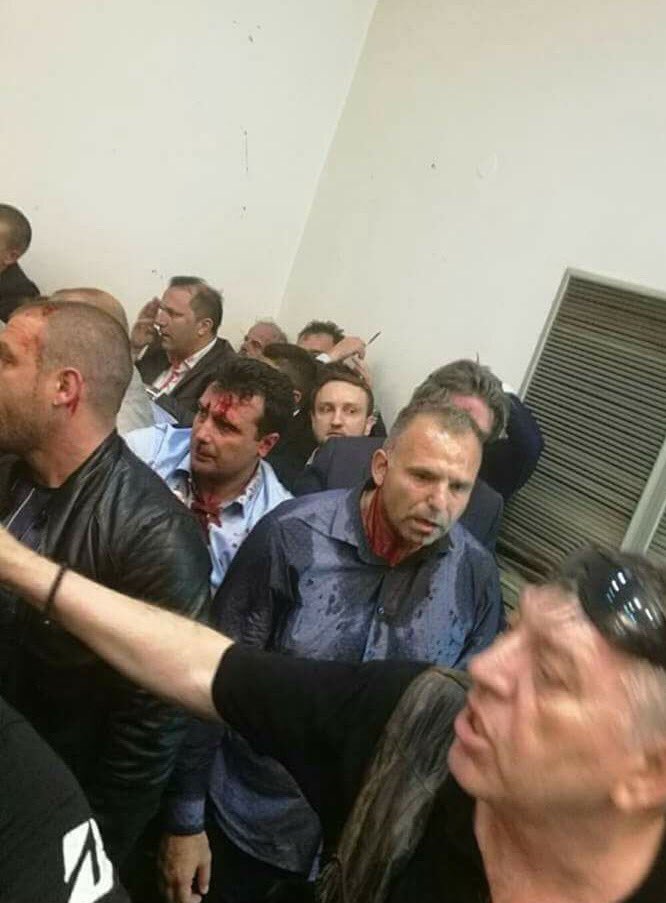 Protesters storm into Macedonia parliament, Social Democratic…
www.dailymail.co.uk/wires/reuters/article-4453028/Protesters-storm-Macedonia-parliament-Social-Democratic-leader-injured-witnesses.html
More photos of the beaten politicans:
republika.mk/767987
eNCA@eNCA 2 min.
eNCA | Protesters storm into Macedonia parliament, Social Democratic leader injured -witnesses
www.enca.com/world/protesters-storm-into-macedonia-parliament-social-democratic-leader-injured-witnesses?utm_term=Autofeed&utm_campaign=Echobox&utm_medium=Social&utm_source=Twitter#link_time=1493319001
Protesters strom the parliament:

Views: